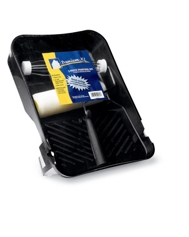 Premium XL 3 Piece Roller Kit
The Premium XL 3 piece painting kit is a good choice to finish your painting project. The kit contains a reusable plastic tray, one 9" x 3/8" roller cover and a 9" roller frame.
| Sales Number | Description |
| --- | --- |
| 001803345 | Premium XL 3 Pc Kit |
Choosing a Roller Cover
Information how how to choose the right roller for your project.
Checklist of Tools
Information on the tools you'll need for a successful painting project.
Your Sherwin-Williams
366 Saint Georges Ave
Rahway, NJ 07065-2840
(732) 815-1980
Discover More
Color Matching for Smart Phones
See Your Home In Full Color
Connect with Color on Facebook
**

Not all colors are available in all product lines. See store for details.

***

Not all sizes available in all areas.