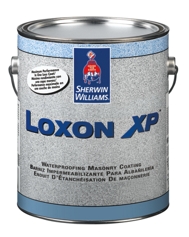 Loxon XP Masonry Coating
Prolong the lifetime of stonework around your home with Loxon XP®. This formula seals and protects the exterior above ground foundation. No need to prime first, Loxon XP can be applied directly to the concrete or bricks and helps protect against cracking and weathering keeping your house looking great!
Flat
This non-shiny finish is great for hiding surface imperfections because it deflects the light.
Sizes ***
1 Gallon, and 5 Gallons
Product Data Sheets
A Product Data Sheet is available for technical information about this product line. This document includes details such as dry time, surface preparation, coverage area, and other information you would find on the product label.
Your Sherwin-Williams
366 Saint Georges Ave
Rahway, NJ 07065-2840
(732) 815-1980
Discover More
Color Matching for Smart Phones
See Your Home In Full Color
Connect with Color on Facebook
**

Not all colors are available in all product lines. See store for details.

***

Not all sizes available in all areas.