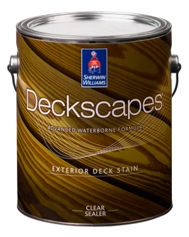 DeckScapes® Exterior Waterborne Clear Sealer
Water repellant and protects wood from sun while allowing the wood to gray naturally.
Sizes ***
1 Gallon, and 5 Gallons
Deck Staining How-To's
Information on the steps of a successful deck staining project: Planning, Preparing, Painting, and Clean-up.
Paint Calculator
Find out how much paint you will need by using our online paint calculator.
Product Data Sheets
Product Data Sheets are available for technical information about this product line. These documents include details such as dry time, surface preparation, coverage area, and other information you would find on the product label.
Your Sherwin-Williams
366 Saint Georges Ave
Rahway, NJ 07065-2840
(732) 815-1980
Discover More
Color Matching for Smart Phones
See Your Home In Full Color
Connect with Color on Facebook
**

Not all colors are available in all product lines. See store for details.

***

Not all sizes available in all areas.