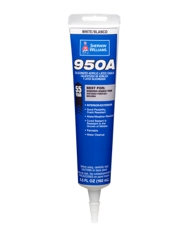 950A Siliconized Acrylic Latex Caulk - Squeeze Tube
A general purpose siliconized latex caulk for many interior & exterior applications.
| Sales Number | Description |
| --- | --- |
| 001631431 | 950A White 5oz Squeeze |
Product Data Sheets
A Product Data Sheet is available for technical information about this product line. This document includes details such as dry time, surface preparation, coverage area, and other information you would find on the product label.
Your Sherwin-Williams
366 Saint Georges Ave
Rahway, NJ 07065-2840
(732) 815-1980
Discover More
Color Matching for Smart Phones
See Your Home In Full Color
Connect with Color on Facebook
**

Not all colors are available in all product lines. See store for details.

***

Not all sizes available in all areas.